About the tour – Bruges, a medieval open air museum
This is a guided tour criss-cross through the historic center of Bruges. Not only the highlights but also some quieter neighbourhoods are on the program.
We normally start our discovery on the Square 't Zand at the Concert Hall, you can not miss this building as for Bruges, it is one of the few modern architecture buildings.

We take the main shopping street in the direction of the Market Square. Halfway, we pay a visit to the St.Saviour Cathedral. After visiting the Market Place with the imposing 83 m belfry and halles, we continue to the Jan Van Eyck-square, once the center of Hanseatic Bruges. This area was the economical and financial hub of Flanders between the 13th and the 15th century.
A lot of impressive houses are a statement to the leading role of Bruges as a commercial center in the old days. We pass the city theatre, the Saaihalle (1399), Huis ter Beurze ( the first stock exchange), the Toll House , etc.. A little bit further we arrive by the Burg, one of the most charming squares in town. We now see the gorgeous Gothic City Hall, the basilica of the Holy Blood and the Liberty of Bruges , once the city's courthouse , today the Municipal Archives.  We cross the Fish market, Tanners Square and the very picturesque Dijver and board small boats to cruise the "Reien", the small canals that give Bruges the epithet 'Venice of the North'.

Then we enter St Mary's church. Among all its art treasures the 'Madonna with child' is not to be missed since it is Michelangelo's only sculpture north of the Alps. A stop at St John's Hospital (now Memling in Sint-Jan – Hospital Museum) enables us to see one of the oldest preserved hospital buildings in Europe.  
We end our walk at the Minnewater in a typical Bruges restaurant with a Burgundian interior and specialized in fine regional cuisine. 3 course menu, drinks not included.

A medieval open air museum
Minimum number of participants: 15
Maximum number of participants: Unlimited
Duration: 3 hours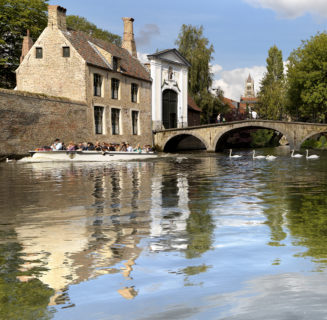 Example of menu
Menu Example:
Fish soup Zeebruges style
****
Lemon sole with leek, white wine sauce and tomatoes
****
Ice dessert
Request more information about our trips
Whether you are looking for an extensive programme or some specific services, we make your escape perfect.