About the Brussels Pub Crawl
Did you know that in the year 1900, Belgians drank an average of 200 litres of beer each year? Today, this was brought down to 'only' 72 litres per person, still an impressive amount. In this small country, there are approximately 180 breweries, from microbreweries to international giants exporting Belgian beer all over the world. We're not sure how many pubs there are in Belgium, but we'll show your group the best bars and pubs in Brussels, and have you taste Brussels' best beer.
Most people are familiar with the four favourite Belgian culinary delights: chocolate, beer, waffles and French fries. If the group you're bringing had to choose and their preference would go to beer, this Brussels Pub Tour is for them.
Brussels Pub Crawl
Minimum number of participants: 10
Maximum number of participants: 40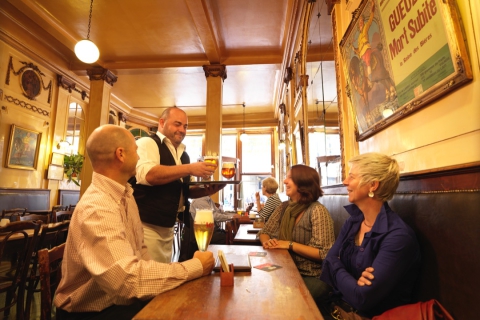 Belgian beer sets the standard for beer worldwide, the same way Scottish whiskey or French wine does. And it's not only the monks that make beer anymore. The Brussels Beer Project's urban brewery for example is a new, contemporary start-up in Brussels' hipster area, where they invite brewers from all over the world to come experiment and push the boundaries of beer. They call it 'a collaborative project using co-creation to become more innovative & daring and to bring a breath of fresh air to a sometimes too conservative Belgian craft-brewing scene.' This brewery is where we'll start off our Brussels Pub Crawl.
We'll then take your group bar hopping in Brussels to several of Brussels bars. You'll find out the differences between a Geuze, Kriek or white beer. Our guide will make sure your members will become a beer-connoisseur by the end of the evening! Our pub tour in Brussels will end with a unique beer-infused dinner: not only are the meals prepared using beer, but you'll also be served a different type of beer with each course.
Of course, we'll make sure you get back safely to your hotel afterwards, and the whole group will agree that this was the best bar crawl in Brussels ever.
Plan your Brussels Pub Crawl
Whether you are looking for an extensive programme or some specific services, we make your escape perfect.