Multi-faceted team building in Ostend
This tour of Ostend is the ideal team-building event for those that want to combine a fun activity with some culture and gastronomy. Your group will enjoy go-carting in Ostend with our guide and will make several cultural stops showing the historical, maritime and architectural highlights. This 'team building Ostend' event in the seaside city of Ostend will also give you a taste of its gastronomic treasures, such as seafood delicacies and local beer. Visit Ostend with us and enjoy the sea views, while strengthening the team spirit!
Team building Ostend
Minimum number of participants: XX
Maximum number of participants: XX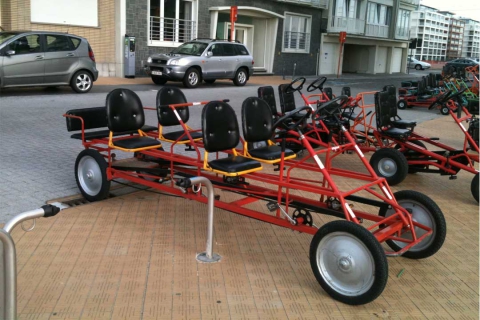 Team building in Ostend: Go-carting
During this three to four-hour go-cart tour of Ostend your group will be split up in teams of 4-8 people per go-cart. Your guide will provide you with interesting facts about the rich maritime history of this seaside city. This unique mode of transportation will strengthen the team spirit: an entertaining and joint effort to travel through Ostend, enjoying and discussing the sights together.
Ostend city tour
Ostend is a city rich in maritime history: we'll show you the three-masted Mercator ship (now a floating museum), Fort Napoleon (built in the Napoleonic era), the harbour, and the fish market. We'll also visit the Royal Galleries, a seaside neoclassical arcade on a dike on the beach of Ostend.
Culinary tour of Ostend
Ostend is proud of its many gastronomic treasures. During our visit to the local fish market you'll get a taste of the catch of the day: maybe some fresh shrimp or another seasonal seafood specialty. A go-cart tour of course requires a stop at a typical pub, to taste a regional beer and get some background info on how the beer is brewed. To round it all off, we'll treat you to a yummy plate of mussels served with Belgian fries.
More information about the team building in Ostend