About the Discovery of the Belgian beers!
An evening all about beers: cruise on the Lys river – beer seminar with beer specialist and tasting with appetizers – beer dinner.
Program:
Welcome by our guide/beer specialist and cruise on the canals of Ghent during 40 minutes. You will pass by following sights:
St Bavo's Cathedral, the Belfry and the St Nicholas' Church

Old guildhalls built by boats men, masons, grain measures, fishmongers, hag butters,…

Impressive castles like the Castle of the Counts and the Prince's Court, birthplace of Charles V

The more than solid 13th century monasteries previously occupied by Augustinians and Dominicans.

The Ancient Port of Ghent along with its quay-walls and mercantile houses, never too far away of shady inns packed with girls of easy virtue etc…
We end our cruise along the pier of a unique historical cellar in the center of Ghent. Our guide/beer specialist offers you here a real beer seminar. We will taste here 4 Belgian beers accompanied with appetizers who perfectly match with each beer such as: cheese, salami, head meat with mustard, smoked forest ham.
After the beer seminar (duration 1.5 – 2 hours), we continue our evening with a little walk towards our final destination. In this restaurant we will take our dinner.
Discovery of the Belgian beers!
Minimum number of participants: 15
Maximum number of participants: 80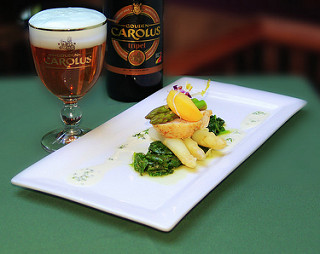 Example of menu
Beer menu: 3 beers (or soft/wine) and coffee included
Beer soup with grey shrimps
/ Tureen of rabbit with raspberry beer
/ Trout with savoy cabbage and abbey beer
****
Rib of pork prepared with Orval beer
/ Salmon with Ename Triple beer
/ Flemish beef stew with Charles Quint beer
****
Sabayon dessert with Cherry beer
/ Mousse of red berries with triple beer
=> Adapted beers, water and coffee included
Request more information about our incentive trips
Whether you are looking for an extensive programme or some specific services, we make your escape perfect.