About the Evening program on the Brussels Market Square!
The Market Square of Brussels is one of the most beautiful squares of Europe and is the central location of our evening program.
Welcome by our guide at the Market Square. Meeting point: The Brewers'House.
The Brewers' House is the headquarter of the Belgian Brewers' association and one of the oldest professional associations in the entire world. The building has been constructed between 1695 and 1698 and is the masterpiece of the architect Wilem De Bruyn and sculptures Marc De Vos and Pieter Van Dievoet. In the cellars of the building we can find the brewers' museum.
18H00-19H00: visit with our guide of the Market Square and environment where you will admire the most important buildings in Brussels. We do not only visit the Market Square, but also walk along the Stock Exchange, the Mint and Galleries St Hubertus.
19H00-20H00: free visit of the Brewers' House and tasting of 2 Belgian beers. Our guide/beer specialist gives us in a playful way some explanation during the tasting.
Afterwards, we have dinner in the council hall, the most prestigious room of the Brewers' House, from where we will have a magnificent view of the Market Square.
Optional: musical entertainment during dinner.
Evening program on the Brussels Market Square!
Minimum number of participants: 40
Maximum number of participants: 80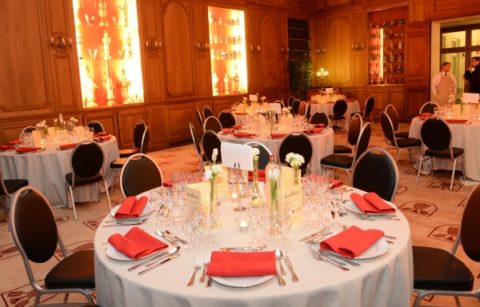 Example of menu
3 course dinner including wines, mineral water and coffee
Menu proposal:
Tomato stuffed with grey North Sea shrimps /Tartar of salmon with horseradish cream
/ Salad with warm goat cheese and smoked ham
****
Cod fillet with sauce of Bruges White beer and duchesse potatoes
/ Duck breast with sauce of Cherry beer and seasonal vegetables
/ Poultry filet stuffed with mushrooms and sauce based on Ciney abbey beer
****
Plate with variety of Belgian cheese
/ Duet of chocolate mousse and mousse of Belgian biscuits
/ Tarte Tatin with vanilla ice cream
Request more information about our incentive trips
Whether you are looking for an extensive programme or some specific services, we make your escape perfect.