About the Gastro walk – charm formula
Visit of Bruges with a private guide. On the way, we will taste the real Flemish kitchen in 3 different restaurants.
Program:
Welcome by our guide on a location chosen by you in the center of Bruges (hotel, parking, station,…). We start our evening with a visit of the brewery 'De Halve Maan', this is the only family brewery in the center of Bruges still in activity. The brewery has been founded in 1856 and counts already six generations. Experienced guides will teach you everything about malt and hops. During the visit, which takes more or less 45 minutes, you will also enjoy an amazing panoramic view overlooking Bruges.
Gastro walk - charm formula
Minimum number of participants: 20
Maximum number of participants: Unlimited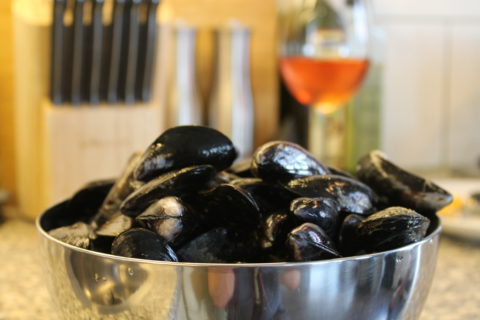 Example of menu
Starter at the brewery, one drink included (Bruges Zot beer or soft drink):
Oven gratin with North Sea shrimps, button mushrooms and zucchini
Gravlax of fresh salmon
Crispy salad with Brugse Zot beer pâté
After the starter we continue our walk. On our tour we will pass along the most important sightseeing places of the city: Church of Our Lady, Dijver, Fish Market, Burg Square with city Hall, Market Square with Belfry,… We end our walk at the second restaurant where we take the main course in a typical Bruges restaurant with Burgundian atmosphere)
Main course, one drink included (wine, beer or soft drink):
Mussels with Belgian fries (season)
Chicken waterzooi (stew) with Bruges shite beer and potatoes
Flemish beef stew with Belgian fries
Leg of rabbit with cherry beer …
After tasting all these Flemish specialties we continue to our final destination. In this restaurant we enjoy dessert with a heartwarming cup of coffee.
Dessert, one drink included (wine, beer, soft drink, coffee, tea):
Cream puffs with chocolate sauce
Warm apple pie with whipped cream
Vanilla ice cream with Belgian chocolate
Mousse of Belgian chocolate
Request more information about our incentive trips
Whether you are looking for an extensive programme or some specific services, we make your escape perfect.