About the In the fooDsteps of 'Brugse Zot'…
A discovery of the brewery 'De Halve Maan' in combination with a beer dinner served in an authentic restaurant.
We start the evening with a guided visit of the brewery 'De Halve Maan'.
'De Halve Maan' is the only family brewery in the center of Bruges still in activity. The brewery is situated in the heart of the historical town and offers a warm welcome to the visitors. In 2005 new life has been blown into the brewery with the revival of the brewery's activities. Xavier Vanneste, son of véronique Maes, restarted the old brewery after a renovation of the remaining equipment. He launched the new beer under the name 'Brugse Zot' for which a unique recipe has been developed.
'Brugse Zot' is the nickname of the inhabitants of Bruges. As legend has it, Bruges gave Maximilian of Austria a warm welcome in their proud city and showed him a colorful parade of exuberant revelers of fools passing by. When they asked him for a new madhouse, he exclaimed: "I have only seen fools today. Bruges is so big and already a madhousse!". Since then, the locals carry the nickname of 'Bruges fools'.
Experienced guides will teach you everything about malt and hops. During the visit, which takes more or less 45 minutes, you will also enjoy an amazing panoramic view overlooking Bruges. We end the visit with a tasting of the Brugse Zot beer!
We continue our walk towards the restaurant where we take dinner. This guildhall of the tanners goes back to 1450. The rich tanners turned the hides into much demanded leather. It was restored to its actual condition in 1630 and opened as restaurant in 1985.
Minimum number of participants: 15
Maximum number of participants: 120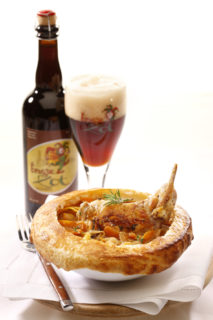 Example of menu
Crispy salad with grey shrimps and mayonaise of Rodenbach beer, smoked mackerel with mussels
/ Meat paste, onion marmalade with Chimay beer, Flemish ham and melon with raspberry beer
****
Steak of beef with mushrooms, sauce of Brugse Zot beer and small potatoes with herbs or Braised ham in sauce of Brugse Zot beer, mustard and seasonal vegetables, small potatoes with herbs (minimum 25 persons)
/ Waterzooi with haddock, sole and small potatoes, mushrooms, chervil and Brugse Zot beer
****
Cold sabayon with cherry beer and fresh fruits
=> 3 beers (or soft drinks), water and coffee included
Request more information about our incentive trips
Whether you are looking for an extensive programme or some specific services, we make your escape perfect.