About the Rally in the historical center of Ghent
During a funny search in "de kuip", the inner city of Ghent, small teams learn in a playful way a lot about Ghent's architecture and history.

Welcome by our guide and assistant(s) in a typical restaurant with a cup of coffee and a croissant. Briefing of the concept: the group will be split up in teams of about 4 – 6 people and will explore Ghent armed with a road book and a map. Two teams will leave at the same moment, but in opposite directions. Other teams will follow (some) minutes later, avoiding thus that teams have to wait at the checkpoints where agility and general knowledge are added to the test. As they pass the most idyllic spots, participants should not forget to consult their road book.

We gather the teams on a central location where old Flemish folkloristic games such as Pudebak, Struifvogel, Toptafel,…are waiting for them. During these games an aperitif will be served.
The winning team will be rewarded and receives a package of specialities of Ghent.

We end the morning/afternoon with a lunch or dinner in a typical restaurant: 3 course menu based on regional specialities, 2 drinks (wine, beer, soft) and coffee included.

Rally in the historical center of Ghent
Minimum number of participants: 15
Maximum number of participants: Unlimited
Duration: 3 hours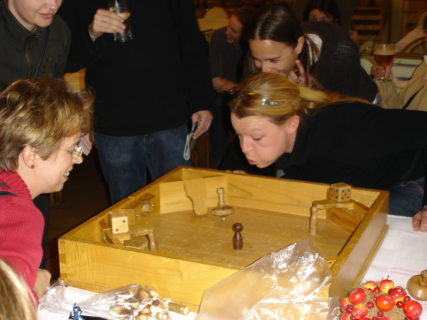 Example of menu
Smoked ham Ghent Style
****
Beef stew prepared with 'Ghent triple' beer
****
chocolate dessert
Request more information about our incentive trips
Whether you are looking for an extensive programme or some specific services, we make your escape perfect.