Romantic dinner cruise on the Lys with Jazz
The romantic dinner cruise Ghent combines a boat trip on the Lys River from Ghent towards the center of Latem with live music!
We start our evening with a guided walk through the historical centre of Ghent. During this walk of about 1.5 hours we will see the most important curiosities of the city. We start on the Market Square 'Vrijdagsmarkt' and walk towards the romantic neighbourhood 'Patershol' to reach the Castle of the Counts.
As from the St Michaels bridge we have a beautiful view over the 'Graslei' and the 'Korenlei' and we can admire the 3 towers of Ghent: St Nicolas church, the Belfry and the St Bavo Cathedral. The recently renovated squares, as 'Korenmarkt', 'Emile Braunplein' and 'Kouter' are also on our way towards the Justice Court where we will embark for the jazz dinner cruise.
As from the outside, we will also admire the impressive trade centre, the Opera house,… We end our walk near the Palace of Justice where we embark for a 3 hours during dinner cruise from Ghent towards Latem and back.
Romantic dinner cruise on the Lys with jazz
Minimum number of participants: 20
Maximum number of participants: 160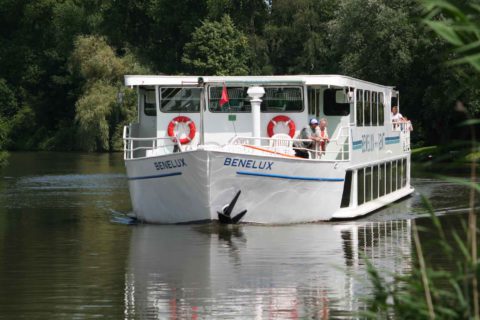 Example of a menu served on the romantic river cruise Ghent
Cava aperitif
****
Cold and hot buffet: Seasonal soup, sweet-sour chicken, grilled ham, pasta carbonara, tureen of fish, fresh salmon, turkey with fruit, stuffed pork roast, celery salad, tomato and other salads, sauces, bread and butter
=> 3 drinks during the meal (soft drinks, wine or beer) and 1 coffee included

More information about the evening dinner cruise Ghent
Whether you are looking for an extensive programme or some specific services, we make your escape perfect.